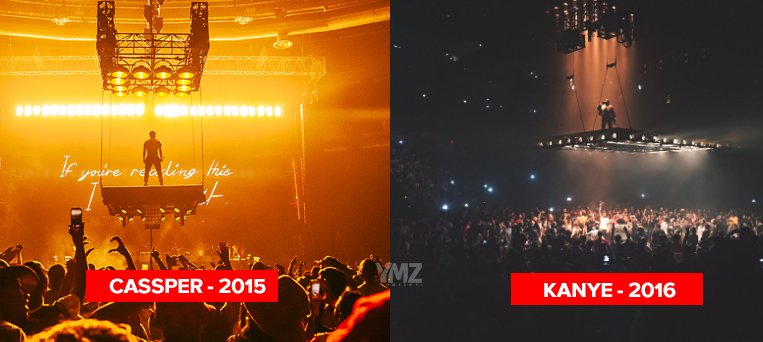 ---
Local rapper Cassper Nyovest went on the defensive after a video of Kanye West slamming copycats – during a concert – emerged.
Nyovest tweeted that he woke up to 'blog posts' on Monday morning saying that he was being addressed in a rant by Kanye West.
In the rant Yeezy talks about people copying his stage design and general style, you can watch it here.
The Life Of Pablo album creator was not specific about which performer(s) he was referring to with his comments, but South African recording artist Cassper Nyovest took to social media to suggest Ye may actually be the concept thief.
The Instagram post was followed up by a tweet saying he "Woke up to my name on American blogs about how I possibly stole Kanye's stage," Cassper wrote on Twitter. "We did this a year ago already. lol. Ya Neh."
The 25-year-old award-winning entertainer also posted a photo to Instagram of himself on a floating stage.
The caption for the photo read, "This is what we did last year at #FillUpTheDome."
This is what Cassper and his fans had to say about the rant in which Kanye doesn't actually name anyone:
---
While the whole situation is truly ironic, considering Kanye was the one who started the entire ordeal, Cassper seems to have taken the opportunity to see this in an optimistic light and branch out to new followers who previously may not have known who he was.
What do you think about the fiasco? Is it likely Kanye stole the idea from Cassper?
Let us know your thoughts in the comments below.
SOURCE XXL